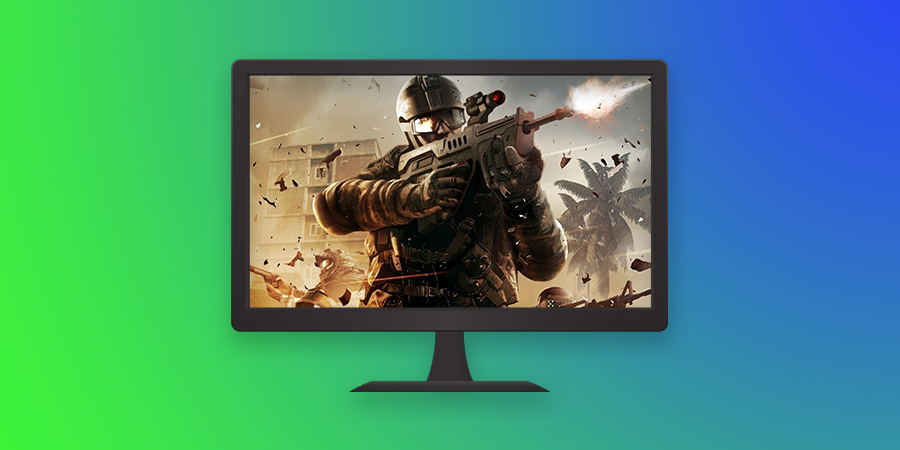 What's the best ultrawide monitor under 500? Let's find out…
Finding a compelling monitor as low as $500 with exceptional features and buttery smooth performance is not an easy task which is why we present you with a mid-range monitor designed with a gentle curve and an extensive list of features. Choosing a great reasonably-priced monitor designed for gaming enthusiasts from the following long list of cool gaming monitors with pronounced curvature will definitely cut your effort threefold. 
Take a look at the following names, learn about their different features including, high definition resolution, fastest response time, the weight of the monitor, virtually instantaneous response, anti-glare coating, game mode settings, application presets, high-quality speakers, wide aspect ratio, diagonals, and VESA mount standard 75x75mm to make your decision.
If you don't have short pockets then sub-$500 is a great budget option for your wallet to consider. In this price range, getting an ultrawide monitor is the cream of the cake.
Best UltraWide monitor under $500
To provide you with an overview of the key specifications these amazing monitors have and for what price are these available in the market, we have compiled a comparison table below. 
| | | |
| --- | --- | --- |
| Best Ultra-Wide monitor under $500 | Features | Price |
| LG 34WN80C-B Monitor | QHD display, 99 percent sRGB, OnScreen control options | |
| LG 34WK650-W Monitor | AMD FreeSync technology, MaxxAudio, HDR 10 compatible | |
| SAMSUNG CJ791 Monitor | QLED technology, Thunderbolt 3 ports, 125 percent sRGB | |
| Sceptre C355W-3440UN Monitor | FPS-RTS custom display, blue light shift, anti-flicker | |
| BenQ EX3501R Monitor | B.I.+ technology, Low blue light, AMD FreeSync | |
| Samsung SJ55W Monitor | 3000:1 contrast,  WQHD resolution, low input lag mode | |
| LG 34UM68-P Monitor | Dynamic Action Sync, AMD FreeSync, 3 gamer modes | |
| LG 34UM69G-B Monitor | LG's Black Stabilizer, AMD FreeSync, RTS pre-set mode | |
| Sceptre C305B-200UN Monitor | Blue light shift, FPS-RTS custom display, Bezel-less screen  | |
Every single monitor is a top ultrawide monitor under $500 that you can use for programming, photo editing, video editing, gaming, coding, architecture requirements, and other professional activities. So, let's get started to see which one is a decent ultrawide monitor under $500 price tag without emptying your bank.
The ergonomic monitor comes with an adjustable stand which can be used to alter the height and angle of the monitor screen as per your own comfort levels. The monitor is designed to have a borderless appearance which adds to the elegance and style of the monitor threefold. In terms of connectivity, the monitor offers efficient working routines for long hours without compromising on its performance. With the USB Type-C features, you can easily transfer data from the monitor to any device or vice versa in high speed and power delivery up to 60W. This includes HDMI, two USB ports, DP.IN and a data port for excellent screen display. 
This regular-sized monitor has LED for Display Technology with a curved screen to ensure a larger landscape area while working on a media-related project or even watching a cinematic movie. Without spending a fortune, you can avail yourself of the excellent WQHD 3440 X 1440 resolution with no distortion and smooth results. 
The panel technology used in this monitor is The IPS panel is famous for providing smooth and clear visuals on the monitor screen. Similarly, in terms of color production features, you can enjoy a whopping 99 percent of sRGB color gamut, detailed contrast of HDR 10 and 300cd (typ)/240cd(min) brightness without having to pay for the price that is out of your budget. 
The 34-inches widescreen monitor with the 21:9 Ultra-Wide QHD for visual quality is the best choice to get your hands on a quality machine without emptying your bank fully. Having a reasonable market price, this is one of the most affordable 1440p display monitors with excellent wide-viewing angles and a great number of services. The modern productivity booster display screens in such monitors allow the user to use multiple applications side by side and save time by using Screen Split feature and host different platforms all at the same time. OVerall, it's our favorite ultrawide monitor under $500.
The second product in our list includes this incredible wide-screen monitor from LG that is not only a budget-friendly display screen but also offers brilliant features in abundance. The contemporary-looking monitor has a frameless design with ultra-thin bezels that offers an increased field of vision for ultra-wide gaming as well as an immersive visual experience. Moreover, the screen is covered with an anti-glare coating for no fingerprint smudges and glare-free pictures. The monitor screen is supported by an ergonomic stand that offers height adjusting, tilting, and rotating. The monitor also has DisplayPort, HDMI ports, headphones jack, and built-in high-quality 5W MaxxAudio speakers.
This monitor is integrated with LG's AH-IPS panel that provides 8-bit color depth, 99 percent sRGB color gamut, 3000:1 standard contrast ratio, etc. In terms of resolution, this product is considered a normal widescreen monitor as it has a UWHD resolution of 2560 x 1080p due to with you get a pixel density of 81 pixels per inch. Another great feature of this monitor is the HDR 10 compatibility for more realistic content.
Talking about the gaming-centric features, the 75 Hz boosts the clarity and reduces motion blur in comparison to the 60 Hz refresh rate. On the other hand, the impressive 5 ms response time diminishes the ghosting. These features are great for casual gaming as well as for video and graphics editing for entry-level photographers and designers who perform basic photo and video editing on a small scale. Since this is a flat monitor, you won't really have a curved viewing experience. Either you want a normal or dual monitor, the LG 34WK650-W is surely a great choice for a cheap ultra-wide monitor that allows you multitasking with extreme productivity.
The OnScreen controls provide you with easy access to brightness, volume, picture modes, and screen split features. Furthermore, the dynamic action sync minimizes the input latency whereas, the black stabilizer reveals the enemies hiding in the dark.
Viewing on a flat-screen is too common these days and people are always looking for improvements. Look no further as Samsung has one of the largest ultra-wide curved monitors CJ791 that gives you crisp images with unmatched performance. The build quality of the monitor is elegant with thin borders, three-sided bezels, and a flat round base. The monitor's height can be adjusted and you can tilt the display according to your comfort. The stylish monitor can also be attached to a wall using the 100×100 or 200×200 VESA standard mount.
The 34-inch curved monitor has a 21:9 aspect ratio with an impressive WQHD resolution of 3440 x 1440. The ultra-wide screen gives you the option to work side by side using the screen split feature. For some people, the expanded curved display can be an unpleasant viewing experience, however, when used with proper settings, the display doesn't look stretched at all. Get accurate and vibrant colors with Quantum dot tech that has an sRGB of 125 percent for color grading along with a contrast ratio of 3000:1 that provides rich and clear images. 
Integrated with the AMD FreeSync and rapid refresh rate of 100 Hz, the CJ791 is the perfect choice for intensive gaming. The frame rate of your GPU is synchronized with the refreshing rate of your monitor by AMD FreeSync to ensure blur-free frames with action-packed gameplay. The synchronization makes it perfect to play FPS and RTS games. Not only does it provide crisp and razor-sharp images but also reduces the screen shutter and tearing of images.
If you're a MacBook user, then this monitor is definitely a worthy choice because of its Thunderbolt 3 connectivity ports that give a spectacular and processing speed of 40Gbps and a power of 85 watts. The other ports included are HDMI, DisplayPort, USB 2.0, and a 3.5mm audio jack.  For enhanced audio, there is a 7-watt speaker integrated into the monitor.
This 35-inch curved-screen monitor with an LED screen is hands down the best monitor for playing FPS and RTS games in full swing. The beautifully designed sleek curved monitor with an aspect ratio of 21:9 is integrated with features that are attractive and attention seeker among all the market-competitive monitors. The Luminous Back Cover lights and VESA wall mount pattern make its appearance aesthetic. Because of its curved nature of the screen, you can easily enjoy everything in your eyesight without moving your head from left to right to attain a full display view. This monitor is the ultimate gaming monitor that not only provides all the right tools for fast real-time games but also ensures that your eyes are protected at all times. 
With the unique Display Technology of LED and a whopping resolution of 3440 x 1440, you can enjoy all the features of a dedicated gaming monitor. The ultra-wide screen gives a horizontal view of a landscape without stretching the graphics ultimately providing comfortable eyeball movements with no need to turn the head at all. Similarly, with the Blue Light Shift feature, the monitor provides a comfortable view even with the widest display or any viewing angle. 
The connectivity options that come with the Sceptre ultra-wide monitor include two HDMI ports, DisplayPort, and ports for Audio In and Audio Out which users can avail as per their requirements. With the AMD FreeSync technology installed in the monitors, the gaming experience of the users becomes ten times better as it has the power to eliminate screen tearing while fast real-time gameplay. 
Similarly, the FPS (First-Person Shooter)-RTS (Real-time strategy) display settings allow the user to have an improved and fast gaming experience. The 100 Hz refresh rate reduces any chances of screen stuttering and distortion and with fast response time, the experience gets further better and immersive. 
Now that ultra-wide is a new category of monitors, a lot of people are looking for the best budget ultra-wide monitors for everyday web browsing or professional work both. If you want to conquer your profession and want to step up your professional game with large monitors, we have an incredible choice for you that is packed with numerous extensive features. Starting with the ultra-wide and conventional display with a slim design, the BenQ EX3501R monitor has the thinnest bezels that increase the field of view (FOV) for an incomparable display. Moreover, the connectivity options include DisplayPort 1.4, USB-C cable port, HDMI 2.0 cable port, and an audio jack.
This one of the cheapest ultra-wide monitors has a huge and abundant screen real-estate hence offers more horizontal space and 1800R curvature. The giant screen displays extra crisp and razor-sharp images at a massive 3440 x 1440 WQHD resolution whereas, the brilliant 2500:1 contrast ratio creates deeper black and ultra-bright images that you can view with premium clarity and details with high precision in darkrooms as well. For color grading, the monitor has 100 percent sRGB color space along with an 8-bit depth for snappy visuals.
To avoid uneven frames and blurriness, the monitor has a 100 Hz refresh rate for smoother graphics development. Also, the input lag of only 4 ms enables fast-moving objects to be displayed in blur-free frame transitions which is crucial for intensive action-packed games. You can snap between the areas of the screen quickly if you set a dual monitor setup with this product due to the elegant and practical ultra-thin bezels. With an extensively wide field of view, even a table full of spectators will be able to view the screen perfectly.
To reduce eye stress, this monitor from BenQ is stacked up with a brightness intelligence+ sensor to provide you comfort no matter if you are generally using the monitor or enjoying multimedia entertainment. Along with these technologies, you yourself should have an efficient working routine so that your health is not impacted adversely.  
Another impressive product with an ergonomically curved screen is the energy star-certified Samsung SJ55W big ultra-wide monitor. The display is stylish in design with an elegant Y-shaped stand, thin panel, and matte black bezels. Enjoy a comfortable view from any angle as the SJ55W provides 178 degrees viewing angles (R/L) and (U/D). The monitor can be tilted for adjustability and has a VESA mount standard of 100 x 100mm.  
Unlike the regular medium-sized monitors, the SJ55W provides a display wider than normal with its 34-inch display. Have an enhanced entertainment experience or watch cinema format movies in the SJ55W with an ultra WQHD resolution of 3440 x 1400p along with a contrast ratio of 3000 to 1. Viewing multiple screens at a time can be difficult hence take advantage of the wide-field vision and use the PIP and PBP feature that gives you a display of two screens at the same time to work more efficiently. 
The SJ55W has a 4 ms GtG response time and a refreshing rate of 75 Hz. Moreover, the monitor is equipped with AMD FreeSync technology that will sync the monitor's refresh rate with the graphics card frame rate hence a seamless playback of videos and smooth transactions between images will boost your gameplay and give you an immersive gaming experience overall. The monitor is also ideal for media consumption because of its astonishing 16.7 million color support, VA panel, and 300nits of brightness.
When it comes to connectivity ports, options are diverse such as, an HDMI 2.0 cable port, HDMI 1.4 port, DisplayPort, and an audio jack. Save your power as the SJ55W consumes a total power of 59 watts at peak working capacity and only 0.5 watts of power on standby mode.
This LG ultra-wide monitor should be your first choice as it is considered to be the best ultra-wide monitor in this price range. The stylish design of the monitor includes an adjustable stand that can be fixed according to your own comfort, the wide 178/178 wide viewing angle on the monitor of dimensions 32.7 x 15 x 1.9 inches without stand, provides you with an immaculate experience. The VESA Mount pattern adds a touch of elegance to the entire setup. The connectivity options include 2 HDMI ports and a DisplayPort.
The 34 wide inch monitor is suited with all the right features along with being one of the great budget ultra-wide monitors under $500. The LCD monitor offers an excellent FHD 1080p Ultra Wide resolution with the finest panel technology of IPS which makes switching between windows very easy and smooth. Similarly, in terms of color production, the monitor offers a huge range of 8 bit 16 million colors adding vibrancy to the visuals. Similarly, the color gamut with 99 percent sRGB and pixel pitch of 0.312 mm x 0.310 mm make the quality sharper and ten times clearer. 
With the highest resolutions and rich gaming experience, this monitor provides you with smooth video quality and even better image quality, that too, with the addition of immersive effects. Among players, this monitor is highly recommended as its lag-free playing experience together with a seamless experience with fluidity for fast reflexes allows the player to enjoy the most immaculate experience.
For a disturbance-free video watching experience and complete elimination of screen tearing and distortion, the LG monitor is integrated with the FreeSync technology which helps improve the quality of the performance. Similarly, the game mode option and Advanced Gaming Features make your work easier and activate all the right settings to provide you with the best results.
Now we have a mid-range affordable ultra-wide monitor that is stacked up with all the astonishing features that a typical gaming monitor has. Beginning with the stylish yet robust design, this entry-level ultra-gear monitor has almost a no border screen for an enhanced yet highly immersive curved viewing experience for both the casual gamers as well as competitive and hardcore gamers. Moreover, for the connectivity, the monitor is integrated with HDMI 1.4 port, DisplayPort 1.2, an audio cable jack, and a USB-C port.
This LG monitor can display good quality panoramic images in 2560 x 1080p resolution (not FHD) provided by the IPS panel. Though the picture quality is not-so-sharp but the standard contrast ratio of 1000:1, 8-bit color depth, and 250-nits of brightness produce brilliant visuals. Also, the 99 percent wide color space is responsible for near-accurate color reproduction. The wide aspect ratio offers broader diagonals that are great not only for gamers or offices but home offices as well. You also get a decent pixel density of around 81 PPI that produces tad pixelated pictures.
As this monitor is installed with AMD's FreeSync technology, it exhibits variable refresh rates that stay between 40 to 75 Hz. If the frame rate is adjusted between 40 to 75, the refresh rate will be changed automatically by the monitor in a dynamic way that also results in reducing screen tearing and shutter. However, the refresh rate is comparatively low hence doesn't provide as brilliant a fluid viewing experience as 120 Hz or more do. But, it does offer buttery smooth visuals with almost no input latency.
If you work for prolonged hours, the chances of headaches, irritation, eye fatigue, and eye strain are very common. Therefore, the company has integrated a low blue light filter and flicker-free backlight so that you can do color-sensitive work with ease. Some other technologies include a black stabilizer that makes darker areas of the picture clearer, Dynamic action sync, and three different game modes.
Our last product is the decent-looking monitor from Sceptre which offers an incredible immersive experience whether you are viewing multiple screens or normal screens. The Y-shaped stand that supports the monitor is pretty robust as well. Moreover, the increased real estate screen provides an extremely wide view. Also, the luminous LED on the back of the monitor adds to the wonderful look.
This monitor by Sceptre is based on a VA panel that provides you with an 8-bit color depth, 3000:1 static contrast ratio, 250-nits of peak brightness, and approx. 90 percent of the color wheel. Furthermore, with the 2k resolution on the 29.5-inch viewable screen, you get a relatively high pixel density of 94 pixels per inch. Another great specification of this monitor is the picture-in-picture (PIP) mode that allows you multiple documents viewing or literally anything to be viewed at the same time. 
Enjoy immersive and seamless gaming with the Sceptre C305B as it features a 5ms response time along with a 200Hz refresh rate. There are also custom settings for FPS and RTS games to enhance your gameplay. What's more, the AMD Radeon FreeSync technology removes all the stuttering and image tearing in your gameplay by synchronizing the graphics card frame rate to the refresh rate of your monitor. This enhances the level of your gameplay and makes it smooth, seamless, and immersive.
Gaming for hours can cause eye fatigue and headaches. To prevent this the Sceptre C305B uses blue light shift technology, which reduces the strain and irritation on your eyes. For connectivity, there are three HDMI ports and a single DisplayPort present out of which one HDMI port provides a 165 Hz refresh rate while the DisplayPort can offer up to 200 Hz refresh rate. The monitor is also equipped with built-in speakers for reasonable audio suitable enough for calls and meetings.
All in all, when you can view your contents without scrolling the screen that's the best part of a great ultrawide monitor under 500 dollars bucks. Because the normal monitor or standard monitors gives you 1/3 screen space of an ultrawide monitor which is a no-brainer.
Furthermore, you can use 3D LUT color calibration to tune the colors by overdrive.
I hope you will be able to pick the best ultrawide monitor for under $500.