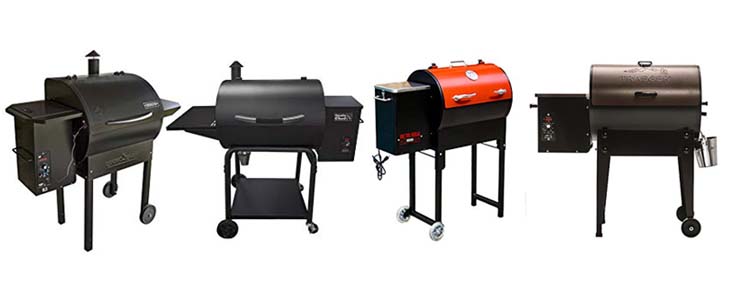 Looking for the Best Pellet Grill Under $500?  You've come to the right place.
 Our Top Picks For You… 
The reason why wood pellet grills are popular among people is that they provide the convenience of electric and smoke flavor in one grill to prepare delicious food, burgers, and BBQ. Agree?
Similarly, it's a lot easier to fire up a pellet grill compared to a smoker or charcoal grill.
Top Pick Pellet Grill 
If you are in a hurry and don't have so much time in reading detailed reviews of these products, you can go with our top pick Traeger BBQ155 Pellet Grill among them. You Can also check the customer reviews and the discounted price of this article on Amazon.


Best Pellet Grills Under $500
Let's dive into the detailed review section of these products!
The first model in our list is Traeger BBQ155 pellet grill which is smaller in size and ideal option for tailgating. This portable smoker provides you enough cooking area that you can prepare a lot of food in a single go on 292 sq. inches. You would be able to prepare several burgers, chicken pieces, and a few racks of ribs.
The Traeger BBQ155 comes with digital controls and an electric auto-start. And the hopper is capable to hold more than 10 lbs of wood pellets.
Furthermore, this heavy-duty grill is an affordable unit that comes with a nice looking bronze finish. Although it's smaller in size, it's portable, durable, and easy to assemble grill that allows you to prepare delicious food without spending too much.
That said, the Traeger BBQ155 is an excellent choice under 500 dollars and it hits a sweet spot between price and features that makes it a worthwhile investment for the money.

What We Like
Portable
Large cooking surface
Durable construction
What We Don't Like
Not good for bigger families
Green Mountain Davy Crockett is another inexpensive pellet grill that is durable, portable, and perfect for tailgating.
This portable grill comes with a 12V adapter that powers up the grill. The folding mechanism allows you to put it in the back of the truck to take it with you for camping or traveling.
Now the most important part of Green Mountain Davy Crockett is the large cooking area of 219 sq. inches and the heating range is 150 to 550F. You have to option to increase the temperature with the increments of 5F using Wifi with remote control or using the Android or iOS smartphone app.
Moving on, the Green Mountain Davy Crockett is a perfect choice for travelers and camping enthusiasts looking for a compact and portable grill under $500.

What We Like
Portable and compact
Folding mechanism
Wifi-enabled
If you are looking for a pellet smoker grill with a large cooking area without spending too much then Camp Chef PG24 is the right option for you.
The Camp Chef PG24 comes with a 429 sq. inches cooking surface that is a lot of space for cooking several burgers, chicken pieces, and other food in a single go. Plus, it features a second rack of 144 sq inches that allows you to prepare some extra stuff making this grill a great home griller for budget people.
The Camp Chef SmokePro offers temperature from 160F to 500F to help you prepare a variety of cooking. You can enjoy the usability with the digital display monitor that highlights the exact temperature inside the grill. The hopper on this grill can hold up to 18 lbs of wood pellets which are more than all other grills mentioned in this article allowing you to perform grilling and smoking for a prolonged time.
That said, Camp Chef PG24 is a versatile petter grill under $500 that offers several features and offers a lot without increasing the price tag making it a great investment of your money.

What We Like
Portable and compact
Folding mechanism
Wifi-enabled
The PIT BOSS 700FB Pellet Grill is another bigger size pellet grill that comes with a 400 square inches of cooking surface area to help you prepare several burgers, chicken pieces, and other stuff in one go.
The PIT BOSS 700FB Pellet Grill offers temperature range from 180 to 500F, plus comes with a meat probe that helps you keep an eye on your grilled foods.
Moving on, the digital controls and LED display helps you control the grill more easily and efficiently. You can view the exact temperature on the display and control using the digital display according to your requirements.
A shortcoming to this grill is that it's not portable but you cannot ignore the large cooking area that allows you to prepare a variety of food for a bunch of people at the same time.
Overall, the PIT BOSS 700FB Pellet Grill is a nice looking pellet smoker grill that comes in two-tone color copper and black. Plus, it's durable and popular for those consumers who prefer home grilling over portable grilling.

What We Like
Large cooking surface
Digital controls
LED display
The Smoke Hollow PS2415 pellet smoker is another heavy-duty pellet smoker that offers a generous cooking area of 440 sq. inches allowing you to prepare a range of foods including burgers, fish, chicken pieces, and ribs at the same time.
Like other pellet smokers discussed above, the Smoke Hollow PS2415 pellet smoker comes with a digital LED thermostat and internal gauge to make the process easier for you. This way, you can monitor your food and control grilling and smoking temperature efficiently.
The Smoke Hollow PS2415 pellet smoker has a heavy-duty barrel construction on a tube cart frame. Plus, the porcelain coated grates make grilling more easier for you as well as cleaning. The easy drain grease system takes care of all the grease the pours down from the food to keep the grill clean.
That said, the Smoke Hollow PS2415 pellet smoker is a valuable pellet smoker that offers solid construction, quality of food, and other tons of features at the same price where other grills lack which makes this grill the best pick for this article.

What We Like
heavy duty steel constructed grill
Electronic thermostat and digital temperature gauge
Simple to clean and
What We Don't Like
Features are not clearly defined
This best under 500 grills are made for extended versatility and easy cooking. Whatever style is adopted by you, either it is Grilling, smoking, baking, or roasting you will enjoy with its advanced ergonomic design. The ZPG-7002E Wood Pellet Grill is made for professional outdoor cooking to make tour time fill with the desired taste.
The solid compact build, outstanding features, and perfect size are the main key factors of its popularity. The 700 square feet size is generous for pallet grill. This best under 500 grill has large at once 20 lbs. hopper capacity. It means, there is no need for consistency refilling each time you grill food.
The Z grill 700 is an 8 in 1 grilling model of the latest features. It allows you to do Smoking, soaring, grilling, char-grilling, baking, barbecue, braising, and roasting in a single unit. It gets 2500 BTU head per hour and also the fan-forced cooking eradicates the requirement of separate rotisseries. Hence, it provides the ideal condition for cooking of any type.
Moreover, this best pallet grill under 500 is having a temperature adjustment option that is done using the knob dial or digital screen. The temperature range is between 180o to 450o. This beautiful design grill is pretty well engineered with its auto feeding system. This system automatically generates the produces the right amount of make and holds the required level of heat.
Why choose Z Gills ZPG 7002E Wood Pallet Grill?
There are many reasons for ZPG 700 pallet grills to become your first choice. First of all its high quality and unmatchable performance are the factors that make it a perfect pallet grill under 500. Other reasons are,
Electric powered auto-start ignition system
Dual temperature control using dial or digital screen
Design to collect waste oil for an easy and nice cleaning
Lockable casters for easy mobility
Upgrade pallet grill in a budget-friendly price
Stainless steel handle and hood
Cutting the long story short, if you want to add wood fore flavor in your food then this is the right choice grill that could be considered by keeping yourself in an affordable price range.

What We Like
8 cooking methods
900 sq. inches cooking area
Durable metallic rack
What We Don't Like
Non-continous temperature levels
7.) Cuisinart CPG-6000: (Deluxe Wood Pellet Grill & Smoker)
Add the outstanding flour in your meat with this excellent quality wood pellet grill and smoker. The Cuisinart CPG-6000 will provide your extra-large cooking space of 700 square inches. In which there is 513 square inch main cooking rack and 187 sq. inch side rack for additional warming.
The large up to 20 lbs. hopper will eliminate the hassle for often refill. You can easily smoke for hours. The pallet grills have become popular to enjoy the right flavor in your garden backyard or rooftop. These are the most convenient grills to start barbecuing while smoking the meat.
The deluxe 6000 pellet grill comes with side hands and lockable casters that make it the best portable grill. Additionally, this best under 500 pellet grill has some great features. You must go through them before buying this value-adding grill for delicious BBQs.
Extra Wide Cabinet Design:
The solid compact builds an extra-large storage capacity of the cabinet is fronted with the durable doors. This large storage space is helpful to store grilling tools, materials, pallet bags, and other secondary things that may be needed on the side.
Digital Controller:
The advanced technology pellet grill is having a digital temperature controller with a real-time LED display function. Both, the auto start electronic ignition system and digital controller are too easy to use even for newbies.
Large Hopper Capacity:
The extended pellet hopper with the storage capacity of 20 pounds is perfect for a longer smoke. One it is filled, the auto-feeding system will make sure the provision of smoke for at least 25 hours.
Most Suited Cooking Capacity:
700 square inches total main cooking area bifurcated into 513 sq. inch main and 187 sq. inch side rack. This wide range of cooking gear is perfect to fill your tummies with delicious food.
In terms of technical speciation, the Cuisinart CPG-6000 Deluxe Wood Pellet Grill & Smoker keeps the lead over competitors. It is available in two black and brown colors. The overall dimensions of the grill are 51" x 48" x 22" length, width, and height respectively. Also, the ideal pellet grill under 500 comes with 3 years standard warranty and limited-time money-back warranty where the change of mind is also accepted.


What We Like
Best pellet grill with extra-large cooking area
Truly affordable, Price that adds value
Easy to use, move, and clean
Outstanding grilling experience
Professional design for pro meat process
What We Don't Like
You might found some installation issues to buy the user manual guide booklet is good to introduce all parts of the grill.
Final Words:
Now that you have all the information, you can easily choose the best pellet smoker under $500 according to your preferences. We did our best research and provided honest information to help you make an informed decision. If you like this article, share it with others as well.
Best Pellet Grill Under 500$ Buyer's Guide 2021
There are tons of models for pellet grills available in the market that makes the selection of a great unit under $500 difficult. Choosing the best pellet grill at a reasonable price is not an easy task until and unless you are aware of all the models available in the market.
In this article, I have shortlisted best pellet grills under 500 dollars to help you choose the right model for your needs. I spent 4 days to gather up this information to help you make an informed decision. Later in this article, I will explain what factors you should look for while choosing a top pellet grill under 500 bucks.
Still, tangled about best pellet grill under 500 in the market? No worries this exclusive buyer's guide will clear all your questions. So let's start with the main key factors that must be considered before buying a good quality grill.
Variation in temperature Range:
To attain nicely cooked food you must know the temperature range. It's one of the most important factors. It also depends on the cooking techniques you are adopting. A perfect high-end pellet grill can provide temperature between the range 180oF – 4250oF. This temperature is just perfect for Roasting, Baking, Grilling, and Smoking of meat.
Though, a grill that can reach the high-temperature level up to 500OF – 550oF. Furthermore, to note the accurate reading of temperature a worthy thermometer is compulsory. So only choose the grill with a wider temperature range so you can cook at the right temperature.
Hopper Size:
Actually the hopper size determines how long you can smoke your meat. It's a storage area connected with the automatic feeding system of the grill. This area is used to store hopper pallets. Picking the best pellet grill with nice hoper capacity will allow you to continue grilling with refilling hassle.
Better Portable And Cooking Capacity:
The pellet grills under 500 dollars are available in different versions such as the best portable, trail-gathering, or best for commercial cooking. If you are specifically looking for a portable grill then it must have casters to move and handle to lift.
Using grill on the go or enjoying self-made grill BBQ on camping is common and a high-quality pellet grill that will easy to use and easy to move will be the perfect companion. In terms of size, most of the grills come with two types of cooking areas:
Main cooking rack
Side heating rack
So only buy grill having a nominal size cooking rack so you can have a great quantity of food in one go.
Temperature Controller:
Different food items even the different type of meat needs a different temperature to get cooked. An expert level chief knows it well. Therefore, it is necessary that you only choose that pellet grill that has temperature controls. It could be digital using a screen interface or manual using a knob dial.
Regardless of being more complicated and advance grilling equipment, the best pellet grills under 500 are extremely easy to use, repair, and maintain. The replaceable parts like a fan, auger motor, etc. also easy to install. Spare parts of different market-leading grilling equipment brands can also be replaced with the pellet grills. It means you can make a customized grill for home use.
Some additional accessories that are important to consider are provided as follows:
Auger Motor:
Auger motor is the main component that works like an engine. The grill needs it to work properly if it is not functioning you need to replace it with a new one which costs you around 40$.
Heating Fan:
The fan or fan motor is used for even distribution of heat. It is also used to cool down the grill to achieve a specific temperature. If it is not functioning you can replace it easily watching a video tutorial. They come pre-build in every pellet grill.
Meat Probe:
The meat probe is used to determine the temperature of the meat you are cooking. Some pellet grill did not come with that feature. If it is then you can buy a new one to help you with cooking.
PID Controller:
PID controller or simple temperature controller is an excellent feature that allows you to set a specific temperature between grill ranges.
Hopper Extender:
Pellet extender is an additional accessory to increase the hopper capacity of the grill. It will allow you to cook perfectly slow smoke meat without supervision. So pick the best pellet grill under 500 that also supports hopper extender.
Price Factor:
Price is the main factor for all consumers. If you a grill I having bank braking price than it must be for commercial use having some extraordinary features. But as we are focused on best pellet grills under 500$, so it is pretty affordable.
Frequently Asked Your Question – FAQ's
After a comprehensive review and buyers guide for beast pellet grill under 500 price. The following standard questions are frequently asked by the general public will help you get more information related to the pellet grills.
Are Pellet grills worth the money?
Double Yes, we see no reason for not investing in quality pellet grills. The pellet grill will add value to your money by allowing you to explore different cooking methods especially for Grilling, BBQ, Roasting, and baking. These versatile cooking ranges are inexpensive too.
When should I look for a new wood pellet smoker?
There is no fixed time. The clear answer to this question depends on your need and type of changes you wanted in new models. If your current pellet grill is malfunctioning then you must replace it with a new wood pellet smoker as soon as possible. If the problem is repairable than try saving your money by fixing by replacing a part rather than buying a new pellet grill.
Will upgrading my grill fixes my problem?
Fixing any fault in a gill is simple. It could be done with replacing only a faulty part. This will totally cost you around 30$-40$ or less which is cheapest as compared to hiring a professional. It will also save your hundreds of dollars for buying a new pellet grill.
The experts recommend that the issue is with the digital operations of your grill than it is better to hire a professional mechanic.
Should I upgrade my current pellet grill?
For the best quality result is recommend to use a well-made pellet smoker backed by a minimum 3-5 year warranty. No need to spend additional money on upgrading your grill if the old one is working fine. Your grill needs a little care. Clean it properly, change the components regularly, and nicely cover when storing.
Which is the best pellet grill under 500$?
There are many great pellet grills that are known as the best when tested for a specific reason. But in overall, the Z Gills ZPG 7002E Wood Pallet Grill is best under 500 price. The Davy Crockett by Green Mountains grill is runner up best. The Z Gills ZPG 7002E Wood Pallet Grill is considered as highly durable constructed pellet grill to add smoky flavor in your meals.
What pellet grill has the best warranty?
Different grilling company provides different warranty policies for their products. But Camp Chef SmokePro is known as the best pellet grill under 500 with 3 years long warranty period. The GMG Davy Crockett has 2 years.
What is a Pellet grill?
It's an advanced technology indoor/outdoor cooking machine combined with the elements of the charcoal smoker, heating oven, and gas grill. It is used for cooking perfectly smoked meat and a variety of BBQs in different ways. Today, the pellet grills are best seller grills in the market. A pellet grill can also be referred to as a pellet smoker.
Related Articles:
See This Video For More Information:
For more Exciting offers and deals  Click Here