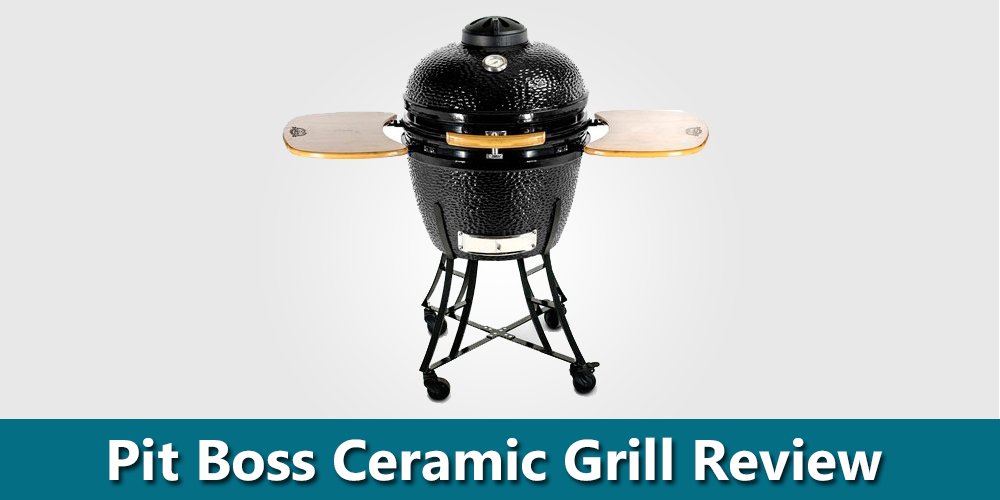 Looking for the Pit Boss Ceramic Grill Review You've come to the right place!
If you are interested in earthenware cooking popularized by Chinese than you must look at charcoal-fueled kamado grills because these are the modern counterpart.As I told in my previous post that I like to write to you guys to help in making a decision. In this article, I am writing pit boss ceramic grill review. Read till the end to know each and everything about this product. These units just look like backyard grills, but the exceptional insulation of ceramic work makes them worth looking at.
If you are in a hurry and don't have so much time in reading a detailed review of this product, you can go to Amazon by clicking this link and read customer reviews.
Click Here 
Pit Boss Ceramic Grill
Key Features
Two-Layer Cooking Grates: This Pit Boss has two-layered stainless steel cooking grates which double the grilling space. You can change grates while cooking if needed.
Cast Iron Calibrated Damper: It contains a very user-friendly damper system that lets the user control the temperature without any hassle. This feature turns out very handy for slow-cooks.
Exterior Thermometer: The large, exterior lid-mounted thermometer enables you to monitor the interior temperature to get the perfectly cooked food at the end.
Plunger: The shock-absorbing plunger provides protection form slams and bumps—and significantly extends the life grill.
Dual Shelves: This kamado grill is specially designed to take as little space as possible—the folded able shelves on both sides provide an optional area when needed. Once you are done simply fold the shelves for compact storage.
Classy Design: This excellent looking Pit Boss Grill is made up of heavy-duty 1-inch ceramic grills with fire bowl, 304 stainless steel grids, solid swivel caster, heavy-duty lid hinge, cast iron calibrated vent and the classy looking black finish with wooden finishing and black metal trim.
Free Ash Removal: There is ash removing toll for, which makes cleaning easy after use.
Pit Boss Ceramic Grill Review
There are several reasons that the kamado grills have become of the most popular grills in the grilling world. Just like other manufacturers the Pit Boss also releases this version of Kamado grill.
Pit Boss Ceramic Kamado Grill:
The Pit Boss Ceramic created two ceramic Kamado grills—the 71220 model (22-inch) and 71240 model (24-inch). Both both grills are made of 1-inch thick ceramic walls and can accommodate lump charcoal.
The thick ceramic wall keeps the heat-sealed inside the grill and emits throughout the chamber evenly—which results from the evenly cooked meat full of juices.
Pit Boss Kamado Grill Design:
This egg-shaped ceramic body contains a calibrated top damper and bottom slide vent—which allow the user to control the heat when needed. This excellent function allows you to bake pizza, sear steak, slow smoke meat, and much more.
As mentioned above it comes with two-layered stainless steel made cooking grids, which provides 662 square-inches (24-inch version) or 567 square-inch (22-inch version) cooking surface.
Two foldable shelves serve as storage space for cooked food and cooking utensils.
The heavy-duty hardware secures the delicate ceramic body in place the wooden handle and metallic trim with black finishing look elegant.
The spring-loaded hinge closes the lid tightly and keeps the heat-sealed inside. The wheel lock feature offers stability while cooking.
Note: The egg-shaped looking grill is quite heavy and weighs almost 180 pounds. The ceramic part can also crack when dropped, so for additional safety, at least two people are needed for moving and assembling the grill.
Pros
External thermometer for monitoring the internal temperature
Elegant bamboo finishing
Rust-proof ceramic
Two-layer cooking grids
Foldable storage shelves
Calibrated vent provides precise temperature control
Cons
The ceramic material can damage
Doesn't suggested for pellet grill users
Conclusion:
The Pit Boss Ceramic Grill is the counterpart of earthenware cooking. This is no doubt an excellent product—but if you are a pellet grill user you may feel that this kamado grill has limited your cooking possibilities. If you want to add value to your money than this product is a good investment.
The interior of kamado grills never let the heat to evacuate and constantly maintains the temperature inside throughout the whole cooking—which results in a perfectly cooked piece of meat.
This Ceramic Grill is perfect for those who are living in cold weather and usually face temperature inconsistencies.
Related Articles:
See This Video For More Information:
For more Exciting offers and deals visit our Home page