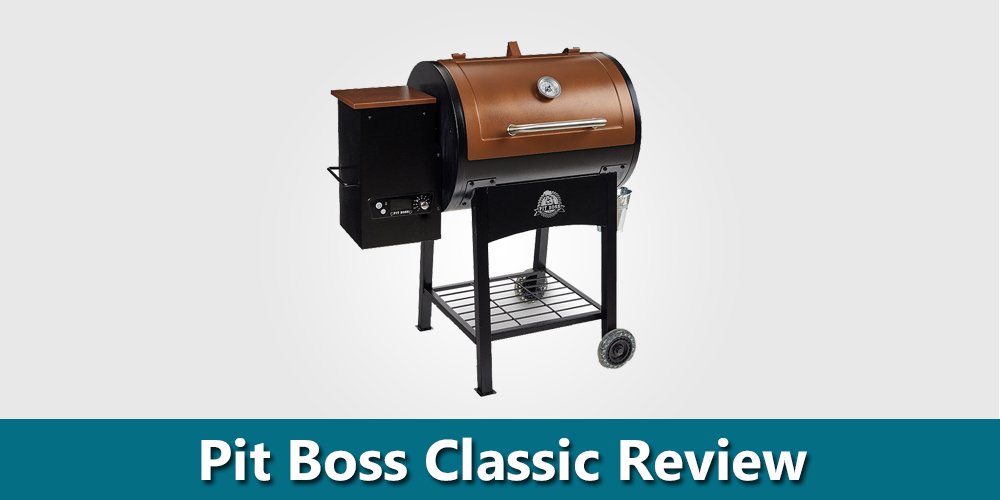 Looking for the Pit Boss Classic Grill You've come to the right place!
As I have mentioned in my previous articles that there are a lot of different companies are available who manufacturing grills for their customer.
So, being a lover of BBQ I like to write a review about grills to tell you guys about all upsides and downsides of the specific product. In this article I am writing pit boss classic review—it is recommended to read till the end. In this article, I going to introduce the Pit Boss 700FB model—also known as a 71700FB model.
This model no doubt is the best and most reliable among all the other Pit Boss Pellet Grills. It not only offers plenty of space to cook but more value per square inch than any other you'll find.
If you are in a hurry and don't have so much time in reading a detailed review of this product, you can go to Amazon by clicking this link and read customer reviews.
Click Here
Pit Boss Classic Grill
Key Features
700 Sq in Cooking Surface: The professionals—so-called grilling gurus always prefer to enjoy every inch of cooking space to its maximum capability. It offers a 700 sq inch cooking surface that is enough to cook everything you like.
Solid Construction: This Pit Boss Classic is structurally a powerhouse—doesn't need to worry about cooking capabilities because it can easily take whatever you throw at it.
8-in-1 Grill: The 8-in-1 capability of this grill is the thing that one must appreciate. In this 71700FB you can do anything and that is much more than just impressive.
No Threat of Voided Warranty: Many manufacturers force users to always use branded pellets under the threat of voided warranty—but when it comes to Pit Boss it doesn't put limitations for anyone. You are free to experiment with different hardwood pellets to improve your grilling abilities and enhance the taste.
Digital Control Board: It has a digital control board to control the temperature. It is completely foolproof—with this you not only can adjust the temperature but also can specify the type cooking you want and adjust the burn length.
Perfect for Beginners: In the very first look its looks like a beast and one can imagine the power and features hidden beneath the lid.
Pit Boss Classic Grill
The biggest advantage of having a Pit Boss 71700FB pellet grill is the value. It is capable of doing everything—when I mention everything it truly means everything. The most grills available in the market are 3-in-1, this traditional grill only can do grill BBQ and smoke but being 8-in-1 this 71700FB can bake, braise, char-grill, sear, and roast.
Performance:
With this big boy, you no longer need a kitchen, or at least not a traditional stove. Looking back to the size you can potentially make several course meal and everything gonna have the best smoky flavor. Test your abilities and take your meal to the next level with different flavors such as apple, cherry, and hickory.
Like other Pit Boss grills, this guy is also set up for lazy cooks—which is a great feature for the low weekend when you are preparing BBQ and no don't want to be stuck over the grill. All you have to do is to fill the hopper with pellets, adjust the temperature you want, and let the grill do all the work for you. This system is good for slow cooks and also handy while you are preparing side dishes.
Construction:
Like other models, this Pit Boss Classic has a metal broiler which easily slides in the open position over the flame directly if you are thinking of char-grilled sear and if you want to smoke your food using indirect heat than use a second rack for at your disposal.
The grids are made of cast iron and coated with porcelain. The porcelain coating not only allows balanced cooking and improved heat retention but also increases durability.
The digital control board is quite easy to use—it offers temperature ranges from 180 degrees to 500 degrees Fahrenheit which is evenly good for newbies and professionals. It is not too intimidating—even if you haven't used wood pellets before you'll feel comfortable cooking on this one.
The top cooking grates can easily be adjusted or removed to increase the cooking surface. This feature turns out handy when you cook large meat pieces like the whole turkey.
Unlike other pellet grills, this Pit Boss Classic Grill accompanies an easy to the empty hopper of unused pellets.  It has an efficient pellet clean out the chute. Just chute door the pellets easily poor out. This feature might great for storing unused pellets for changing flavor while cooking different meats cuts.
Pros
Give excellent for the money
180 to 500 degree Fahrenheit temperature range
700 Sq in Cooking space
8-in-1 grill
Grease bucket
Flame Broiler for direct and indirect cooking
Easy to use and clean
Cons
Small warranty
Temperature doesn't remain constant
Conclusion:
The pit boss classic is one of the great product by the Pit Boss this big guy is capable for doing everything. No doubt, it gives good value for money—If you are a smoked food lover and looking to invest in grill than this product definitely worth a consideration.
Related Articles:
See This Video For More Information:
For more Exciting offers and deals visit our Home page