Ever since 4k TV hit the scene a few years ago, home theater fans have been drooling at the idea of projectors with 4k resolution. This is something the same as a decent 75-inch 4k TV, but using a projector you can spread that 4k image up to 120 inches of screen or more. It was in late 2017 when the first
4k projectors
appeared that cost less than $2,000 and now is the time you can get it for as less as $1,500. But creating such smaller pixels is quite expensive. Manufacturers of less expensive projectors have come up with a different method to get down the prices, what they usually do is the chips that make the image don't have 3,840 X 2,160 discrete pixels. Instead, they use lower-resolution imaging chips and some additional method or you can say basically a trick to somehow create 4k resolution on the screen. The most important thing to keep in mind here is that numerous other factors beyond resolution will determine the projector's overall picture quality.
Best 4k projector under 2000
This ravishing Optoma UHD60 projector emits 3000 lumens of bright white light to enhance your experience of entertainment within the ease of your home along with the crispy audio output. Optoma UHD60 shows 3840 x 2160 resolutions at a contrast ratio of 1,000,000:1 giving you a perfect blend for vivid picture quality.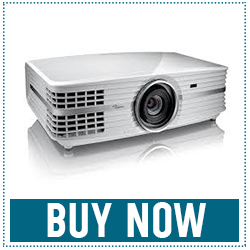 Key features of Optoma UHD60 are:
Optoma offers true 4k UHD resolution as it states to provide 8.3 million addressable pixels which ultimately provide you with an amazing experience of picture quality.
Optoma UHD60 uses HDR10 image technology which displays every little detail of the picture using REC2020 color space and produces rich colors with a maintained borderline of every color.
UHD60 provides you an amazing experience of picture quality and 4k pixels even if you are sitting 10 feet away from the screen.
UHD60 is equipped with a single DLP chip system which is alignment-free and allows easy setup.
UHD60 has successfully claimed to provide you with bold and beautiful images.
Ultra detail technology of UHD60 maintains fine adjustments of pixels for amazing image sharpness, depth, and clarity.
Vertical lens shift provides you with a very easy installation setup, 1.6 times zoom and 1.39 to 2.22 throw ratio.
If you are searching for a best home cinema projector with 4k resolution under 2000, your search may last by having Optoma UHD60 as it gives a perfect picture quality with in-depth details of every color.

Pros
Bright vivid color
6 times zoom
39 to 2.22 throw ratio
Cons
Not a 3D projector
Poor HDR image quality
You can make your home theater something beyond exception using Acer V6810 ultra high definition home theater which offers 4k resolution with 8.3 megapixels giving you pin sharp images on your big screen.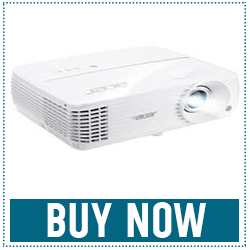 Key features of AcerV6810 are:
4k ultra resolution provides you with amazingly sharp image quality on screen as big as up to 300 inches.
Equipped with HDR compatibility, Acer provides you with a perfect blend and infusion of colors which shine bright with every little detail.
RGBRGB color wheel ensures a wider color gamut which lets you enjoy the vibrant colors maintaining their natural range.
Compatible with HDMI ports, it provides easy connectivity to HD broadcasting.
Built-in 10 watt speakers give you a crispy audio output.
Acer V6810 4k ultra high definition home theater comes with 4k UHD resolution, Rec 2020 compatible and Rec 709 compatible which emits 2200 of standard lumens and can go good with your home theater experience.

Pros
Built-in speaker
2200 ANSI lumens
HDMI compatible
Cons
Does not support 3D
No Bluetooth connectivity
LG PF1000UW ultra short throw smart home theater projector comes with smart TV built-in and it successfully throws pixels up to 100-inch screen and is compatible with LG smart TV providing a full HD (1920 x 1080) picture quality.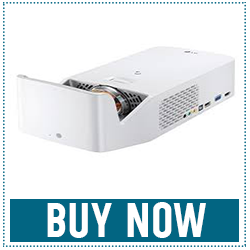 Key features depicted by LG PF1000UW home theater projector are:
It comes with hundreds of offers for you to select from and provides a platform that is very easy and simple to set up.
Throws perfect picture show just from 4.3 inches away for a 60-inch screen and just15 inches away for a 100-inch screen.
The LG ultra-short-throw projector promises to deliver vivid images from the exceptional short distance between the projector and the projection screen.
LED illumination system lasts for up to 30,000 hours.
Sound streaming is done via no-wire Bluetooth system
LG PF1000UW short throw home projector is the choice of projector for small rooms and home cinema for passionate projector users as it provides true-to-life picture quality along with the sharp audio output via Bluetooth connectivity to ensure an amazing experience of home cinema.

Pros
The size makes use easy
Bright and vivid
Short throw projection
Cons
High price tag
No speakers
Average brightness
ViewSonic PX800HD is an ultra short throw home projector for an outclass experience of home cinema as it offers sharp bright images with accuracy. Viewsonic's SuperColor TruCinema RGBRGB technology ensures almost more than 700 of colors accurately and brilliantly for a true to life picture quality.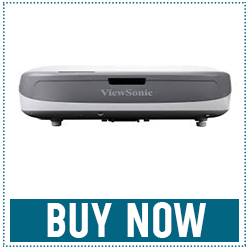 Key features of ViewSonic PX800HD are:
This projector offers a very smooth delivery of bright pictures without any delay hence it can be the best option for gaming as well.
Equipped with exclusive RGBRGB technology, it provides a mesmerizing color accuracy of rec. 709 which produces colors with every possible little detail.
ViewSonic is a package that comes with 2,000 lumens of bright white light which ensures a super bright picture in any environment.
The projector can be easily attached to any HDMI-enabled device and can display 3D images.
ViewSonic provides you with a fully immersive experience of brilliant colors and vivid picture quality. Its short-throw technology can bring any room with a stunning home cinema experience without delaying the picture delivery on screen.

Pros
Excellent image quality
RGBRGB color wheel
High contrast
3 years warranty
Cons
High fan noise
No frame interpolation
No custom modes.
Conclusion
In the final verdicts, if this article for Best 4k Projector Under 2000 I will say that these devices are highly ranked in the market only because of their best performance and durable run. The company also provides a warranty for all of these devices. These are widely used in different parts of the world for their best customer satisfaction. So go for anyone in them. You will get worthless value in your life while paying less.
For more Exciting offers and deals visit  Ali Guides