To some people, a barbecue is just cooking the meat over some form of heat. But the meat getting the perfect marinade & perfect deep penetrating cook with mouthwatering flavors is what Barbeque is. The best thing to notice about the IGrill thermometers is that it is a Bluetooth enabled thermometer that connects with your smartphones. Wi-Fi & App-connectivity with this precious device is a great revolution in technology. This app allows you to monitor the temperature of meat & notify you about your cooking while you are away from the grill or busy with something. It is an awesome return gift for the beginners. The only conspicuous difference between the two models is that the IGrill 2 can be used with any grill type, while the IGrill 3 only works with Genesis II, Genesis II LX, and Spirit II grills. This compatibility feature might restrict many from opting the IGrill Version 3.
IGrill 2 and IGrill 3
The iGrill2 is the next in line to the iGrill.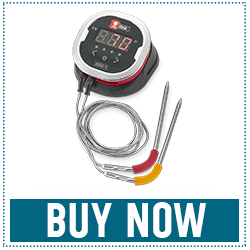 The iGrill2 is much more than most of the digital grill thermometers. This barbeque thermometer connects to your smartphone & notifies when your meat is cooked with a certain temperature. This Bluetooth enabled thermometer has a wide temperature range than most of the thermometers. It has two probes, functions to monitor food temperature. The best feature is when your food reaches the right temperature, you must get a notification on your device. It only takes a minute to connect the iGrill thermometer with your device after downloading the Weber app. The Weber app offers a good user interface and takes good care of its users by sharing Barbeque recipes and tips with its users. Many users find it very accurate.
The iGrill 3 Bluetooth thermometers from Weber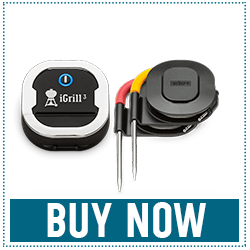 is designed exclusively for use with Weber Genesis II and Genesis II LX series grills. This gadget comes with 2 meat probes that monitor your steak, chicken, or roasts all at one time & notifies you when the desired internal temperature is achieved, with 250 hours of battery life. Features the Weber App with Easy app connectivity with a scope of around 150 feet. The probes are wafer proof and a sensor to measure the fuel level in a propane tank. The package contains the central controller, temp probes, tank sensor, and battery pack and batteries. In general, iGrill3 besides its extra features has limited Barbeque Grills Compatibility.
Comparison Between IGrill 2 Vs IGrill 3
Both the devices are Fantastic. You might be confused about why we named the iGrill 2, besides iGrill 3 as our best Bluetooth thermometer. These two devices have more similarities except for few. The Bluetooth enabled IGRILL 2 is more sophisticated than GRILL 3. The GRILL 3 has all the features of the GRILL 2. But the main differences that guide your decision are the makeover & built-in techno features. The iGrill2 is somewhat more recommendable over the iGrill3 besides its extra features because of its limited Barbeque Grills Compatibility.
For more Exciting offers and deals visit our Ali Guides