The Best Time to Buy a Perfect Barbeque Grill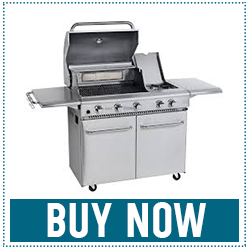 When spring and summer arrive, it's common to smell the aroma of grilled food in the air & that is something I enjoy the most. And it's a perfect time to host a BBQ get-together. With the summer knocking on the door, the meat lovers & home chefs are pretty excited counting down the days to the start grilling season.
BBQ is a fun, tasty way to prepare a mouthwatering meal throughout the year. Grilling your food gives it a unique, yummy taste, as well as those beautiful black grill, marks the food looks profoundly delicious. Whether it be a big family reunion or even just having a few friends around, one of the most important aspects of creating the perfect cookout is choosing the right grill. There are many types and sizes of grills, as well as special features to consider. Evaluate your grilling needs and weigh your options to find the perfect one for you. This article is a must guide to follow to have an unforgettable BBQ.
So you might be wondering when will be the right time to purchase a grill? Whether you prefer charcoal grill, gas grill or smokers, we're here to help you get a
Deals are found at a certain time of the year. As seen in recent years, many grill deals begin in spring and early summer, the rise of the grilling season. But plenty of bargains show up during the fall, too. Don't shop for a grill at the pinnacle of the grilling season. Yes, this is because when you want to buy one to enjoy all summer long, so does everybody else & at this time you will find the rates high. Grills becomes much demanding in mid-summer. There are many promotional cut rates during the early summer, March & April. Buying off-season is always the best time to save the most. Also, we expect to see the best prices in early fall August and September, because of the clearance sales to get rid of all the grills before the winter breeze.
Labor Day weekend is an ideal time to shop for a new grill. There are bundles of sales in honor of the Labor holiday, and this the time when getting good discounts on popular grill brands.
Well, there is always another option too, of buying a used grill. A lot of people are moving to the used grills so that they probably get the grills at a decent price. It is a great way to get a good grill at a good markup.
Either you can buy a brand new grill or a used one, Enjoying Grilling is always fun. Even if it's cold outside! Who doesn't love to cook together with friends, outdoors? Gatherings, summer party, or a relaxing night in, barbecue with your friends and family members make a great grilling experience.

Conclusion
In the final verdicts, if this article The Best Time to Buy a Perfect Barbeque Grill I will say that these devices are highly ranked in the market only because of their best performance and durable run. The company also provides a warranty for all of these devices. These are widely used in different parts of the world for their best customer satisfaction. So go for anyone in them. You will get worthless value in your life while paying less.
Related Articles:
See This Video For More Information:
For more Exciting offers and deals visit our Home page