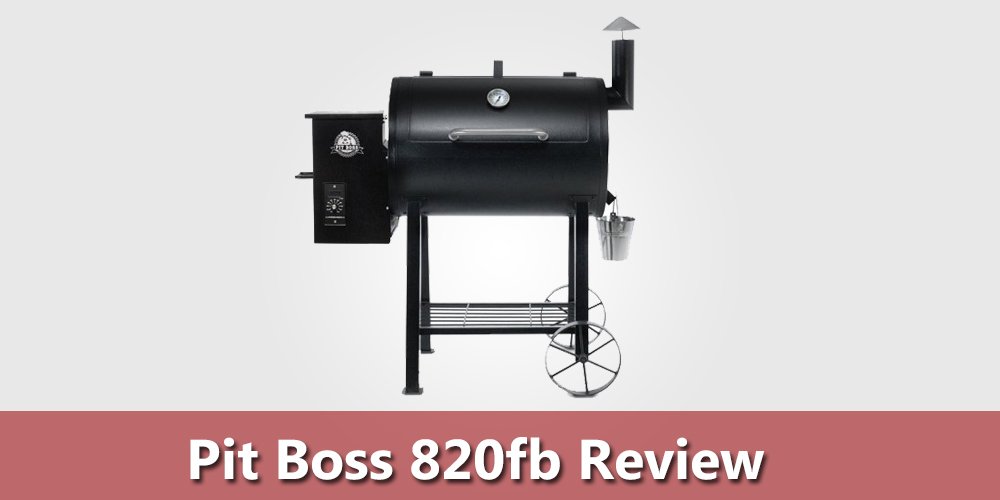 Looking for the Pit Boss 820fb Pellet Grill? You've come to the right place!
The Pellet Grills are one of the most loving things by backyard grillers. I also love smoking and grilling meat to its peak tenderness. There plenty of different companies that are producing these units for their customers.
In this article I am writing pit boss 820fb review—so, sit tight and read it till the end to know each and everything about this product before buying it. If you are looking for a grill to produce good quality grilling in your backyard, then definitely look no more than 100% hardwood made pellets of Pit Boss grills.
If you are in a hurry and don't have so much time in reading a detailed review of this product, you can go to Amazon by clicking this link and read customer reviews.
Click Here 
Pit Boss 820fb Pellets Grill
Key Features
820 Sq In cooking surface
16-Guage heavy-duty stainless steel construction
LED Digital Control Board
24 lb Copper finish hopper
Bottle opener and hanging hooks for BBQ
Made in China by Danson Grill.
Stainless steel made grilling shelves and serving trays
Pit Boss 820fb
The Pit Boss 820 has all the great features that the previous versions have, on the top of the unit which adds more value is the combination of grilling and serving trays, bottle opener, BBQ hangers, and Flame Broiler.
It has both direct and indirect cooking methods which means you can prepare and a wide range of food—you can grill smoke flavored steak, bake pizzas, or your favorite cookies.
Instead of using charcoal, oil or gas the 100% hardwood pellet lets you enjoy the fantastic wooden flavor with an oven-like dial.
The grilling area is 820 sq in and temperatures from 170 to 500 degrees Fahrenheit. These specifications give you a reason to grill every night.
With this Pit Boss 820, it is really easy to serve mouth-watering tenderness. It has 24 lbs hardwood pellet storage capacity and stainless steel construction—its bottom shelf and solid legs make long-lasting and reliable. Its two large wheels make maneuverability easy.
Additionally, it is quite easy to clean a regular utensil cleaner that can be used as well or just use a wire scrubber t remove stubborn meat pieces stuck on the grill.
Features of Pit Boss 820:
The Pit Boss 820 has heavy-duty construction a bottom shelf interconnects the legs. The 16-gauge stainless steel makes it hold it firm on the ground. With its two large wheels, it can be moved easily around your house.
The oven-like dial is really good for setting up an accurate temperature. The precise temperature control along with the fan spread the heat evenly.
As mentioned above the temperature ranges from 170 to 500 degree which means there is nothing that you can't cook in this grill. The door mounted thermometer helps you to monitor the temperature—if the heat is about to exceed the limit it lets you know to regulate the heat for better cooking.
The large cooking surface for better cooking is paramount and this Pit Boss offers 820 sq in cooking surface 520 sq in central rack & 240 sq inch removable rack.
The Pit Boss 820fb comes with grease rack bucket—it efficiently drains the grease into this bucket and keeps the grill neat and clean. It is necessary to use aluminum foil to keep this bucket filth free also.
As mentioned above the regular kitchen tools can be used for cleaning such as steel brush for cleaning grates,  dish soap, and dishcloths for washing rackets.
Most of all are its phenomenal ignition. You may need a matchbox to initiate the ordinary grills—but this unit has a built-in auger that works with electronic ignition to light the hardwood.
The built-in auger picks a pellet from the hopper and on the other hand, the electronic ignition heats the pellet and starts up the fire.
Pros
Wide range of food can be prepared
Easy to clean
Incredible stability
Cons
Leak smoke and heat like other pellet grills
Conclusion:
In this pit boss 820fb review, I have tried to cover each and everything about this product. There are plenty of reasons that I have mentioned to make this product your choice.
The Pit Boss 820 grills eliminate the hassle that one faces with ordinary grills. So, you can confidently use it anywhere you want. The Pit Boss offers plenty of products and choosing the best one might be a daunting task—but the one which I personally suggest is Pit Boss Pellet Grill.
Related Articles:
See This Video For More Information:
For more Exciting offers and deals visit our Home page