If you're looking for a Modern, Compact & a Solid Gas Grill for your birthday party, beach day, or a picnic to make your day an extra special memory then you must look for either one of them.  WEBER Q1000 or WEBER Q1200.
Now the question is which Weber Q Series to move on with? These are two popular liquid propane grills which are "Q1000 VS Q1200" and we are about going to make a comparison between, but before we do this let's take a quick overview.
Weber Q1000 Vs Weber Q1200
Weber Q1000
Weber q1000 is one of the cheapest and portable gas grill, it looks simple, and it comes with one stainless steel burner that yields total heat output of 8500 BTU. When we talk about cooking surface, we will get sufficient space of 189 square inches.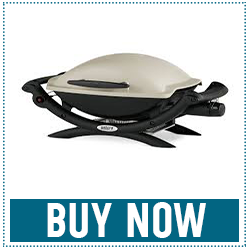 Weber Q1200
Weber q1200 is for better and even heat distribution, it is made up of porcelain enamel cast iron gates which is made for this purpose only. When we talk about its heat output, it has a capacity of 8'500 BTUs which is been operated over a cooking surface area or 189 square inches.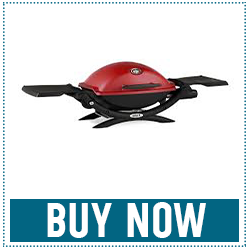 Weber Q1000 Vs Weber Q1200
Buyers cannot notice much difference between Weber q1000 VS q1200, because many features and factors are common between the two models. When we talk about the specs, users will be given only one stainless steel burner from both models. Meanwhile, they will get same heat output of 8500 BTU, from each of the burners. The actual point you will spot the difference is the ignition system. Q1000 comes with push button ignition system, meanwhile Q1200 comes with electronic ignition system.
Both the q1000 and q1200 has large handles grip and ergonomic side easy for holdings. The difference between the models, is the folding side tables, which users will get in the Q1200 model. The side table are very useful for keeping foodstuff and utensils during grilling. Also, in q1200 users get an inbuilt thermometer which it is assigned to display the temperature of the interiors. When we talk the build quality, both the models have cast Aluminum lid plus body and have removable catch pan glass. Except from this, both models has Glass reinforced nylon France and also comes with painted lid.
When you have interest in adding colors to your grilling world and you want to have the best, then try q1200, q1200 will do the job the best for you. Q1000 is only available in white color. Q1200 gives opportunity to the users for choosing among the following colors white, black, fuchsia, blue, green and purple. That means you can pick any color of your chose.
Conclusion
The Weber's Q1200 holds, three chiefly features, which is why it ensures even priority over Weber's Q1000. The Electric Ignition System, Two foldable Side tables for space assistance & High Rise Lid. Looking the other side, the Weber's Q1000 is a pocket friendly Gas Grill, offering colossal features. Both the Barbeque Grills are tempting options to consider.