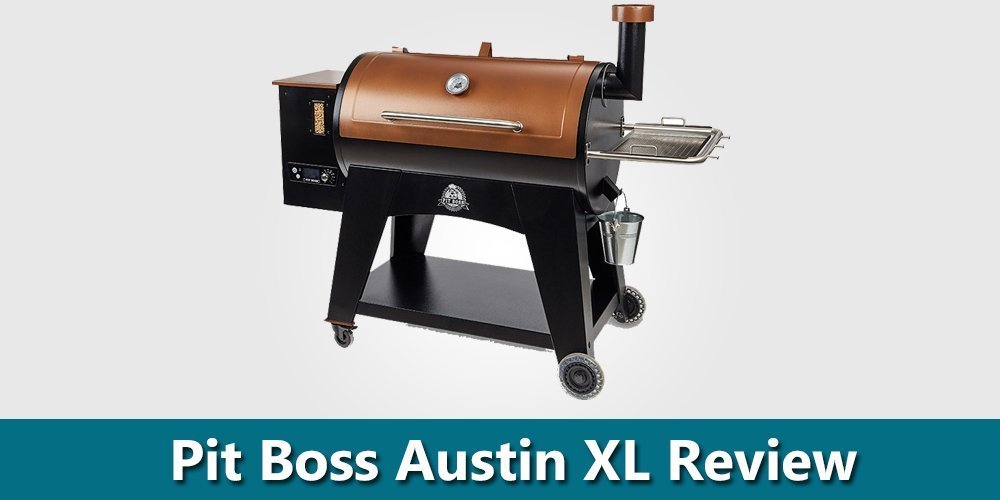 In this article, I am writing Pit Boss Austin XL Review. I'll try to cover each and everything about this product to help you make an informed decision. The Austin XL is one of the latest pellet grill manufactured by Pit Boss – this product is specifically designed to Crush Traeger, and in my opinion, they may have already done it.
If you are in a hurry and don't have so much time in reading a detailed review of this product, you can go to Amazon by clicking this link and read customer reviews.
Click Here  
Pit Boss Austin XL
Key Features
Wide Cooking Surface: It has over 1000 sq inches of porcelain-coated wire cooking surface.
Digital Control Board: It has an LED readout digital control board with a meat probe.
Direct Flame Grilling: A flame broiler for direct fame grilling
Wide Hopper: It accompanies 31 lb hopper with a purge system
Rolling caster: It accompanies four rolling casters.
Initially, there was a significant temperature change between regulator temperature and lid thermometer, finally, through a YouTube video, I have learned to handle it. One other thing that has come with two thermometers which I always use while grilling.
Pit Boss Austin XL (Detailed Review)
This Pit Boss Austin XL looks amazing and contains a lot of cooking space. I was looking for a grill and during the research, I found this one. This grill almost has everything that I was looking for. Such as the ability to smoke, larger cooking area, and no flicker.
The manufacturer claims that it has 1000 sq in grilling surface. Well, that's not really. The main cooking grate has 649 sq inches space and the secondary grate has 288 sq inches of space and combining both of them makes 937 sq inches.
Every grill user uses their grill differently – usually, I don't cook with smaller cooking racks and warming trays. In the case of Pit Boss Austin, I end up taking them out. So, if you are about to use your grill as I do you'll be left with 649 sq inches cooking space not the 1000 sq inches.
Built To Last:
It is advertised as 200 pounds of solid construction. Well once again not exactly the fully assembled weight of Austin is 183 pounds. The 17 pounds weight doesn't make a huge difference. In my opinion, the Pit Boss using the 200 number for marketing literature purpose which says " With heavy-duty steel construction, Pit Boss grills are built to last ". The phrase " built to last " is pretty fuzzy because it comes with only one year warranty.
The manual describes that " The Pit Boss, because of its single-wall construction, should be considered as a 2 to 3 season grill depending upon where you live ." This phrase means that the grill will only last for 2 to3 grilling seasons OR it will only be able to be used for 2-3 grilling seasons of the year.
Although, this machine works great out of the box and does all those works efficiently that a smoked food lover thinks of.
Some Significant Features:
Two excellent features that make this product best pick are Flame Broiler and LED Digital Controller. The Flam Broiler is a series of slits inside the heat shield that protects the slits from the firepot.
These slits can be covered with the second shield – if you don't like your meat to be accessed directly by flames.
Some users may face a problem that the Flame Broiler is not too big but for me, it is enough to accommodate everything that I usually want.
When it comes to fire pot than it is big enough to heat the grill but as mentioned above that the Searing and Broiling area directly over the pot is small.
You might be able to broil two to three strips at a time – I would like to mention once again is that in my case that area is enough good.
The second thing is LED Controller which works fine but not as good as that high priced unit controller works such as Camp Chef, Traeger, and Green Mountain works.
This Pit Boss controller will provide you average temperature but sometimes it'll routinely swing and spikes about 20 degrees Fahrenheit.
Pros
Affordable Price

Long-lasting construction

1000 Sq In cooking surface

Digital control board
Cons
Searing and grilling area is small
Conclusion:
In this review, I have mentioned each and everything about Pit Boss Austin XL. I have tried to tell every downside and advantage of this unit. I am not the hater of this grill I appreciate the work that the Pit Boss is doing. So, if you want a grill with a limited budget that works fine and stays longer than make this product your prior choice without any hesitation.
Related Articles:
See This Video For More Information:
For more Exciting offers and deals visit our Home page