If you are a meat lover and want the fat to melt through with the best amino acid break down and Maillard reactions that people only dream of then it is time to get your hands on an electric grill. These are easy to carry, portable, time-saving and perfect for beautiful sears and grills on all kinds of food. Weber makes top-notch grills and two of the most popular choices are Q1400 and Q2400.We all want good food, but nobody wants to spend that time on them. This is the first and foremost problem solved by the advent of electric grills. These grills use a power supply to begin heating and then they continue to heat the food evenly and ensure a perfectly grilled meal. The
Weber Q1400 and the Q2400
are both two of the most premium electric grills offered by Weber. These are quick and simple to use and they give excellent results. However, nobody wants to regret later so here is a guide to help you choose a good one without making any compromises. Choose the best fit for you from q1400 vs. q2400 with the help of this guide.
Weber's ever-so-famous Q1400 is a versatile option to bbq with ease and without the mess. The grill is a great add on in terms of interior and decor of the house. It is usable in the outdoors and indoors alike. However, if you are an outdoor person then this could be a great addition to your sun lounge, balcony or backyard. It has a versatile look that can add classic oomph and exemplary performance.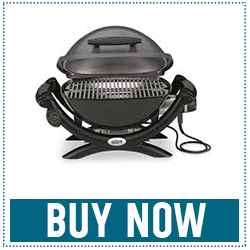 The functionality of the grill is a plus. It offers you a larger grip handle and control knobs, ergonomic side handles, sturdy front and rear cradles than other designs.
It is the best-in-class electric grill in the Weber Q series. It changes the flavor expectations that one can have an electric grill.
You can easily enjoy well-seared burgers, thick steaks, and delectable chops; grill chicken, fish, vegetables and even fruit on the porcelain-enameled cast-iron grates. It is effective in terms of its space-smart nature and immense portability. You can take it anywhere you like especially where gas and other fuels may not be available or restricted fully.

The Weber Q 2400 Electric grill is also a good addition to any household, apartment or condo. It is larger than other options in the series and much more versatile. Whether you want the Q1400 or this beauty is up to you and your needs. The Q2400 also offers great steaks, restaurant-style chops, delicious classic grilled chicken toppings, seared simmering fish, nutritious vegetables and juicy fruit on its Weber-made porcelain-enameled cast-iron grates.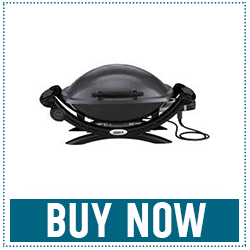 It gives a charred flavor without using charcoal or even liquid propane. The char makes it a great option for bbq lovers and the unique taste of this Q2400 is usually unexpected of electric grills.

In-depth similarities and differences for Q1400 Vs. Q2400:
Wattage
The Q1400 is designed to use a 1560-watt electric heating element. This power heats the surface area of 189 square inches. This cooking area is ideal for cooking for 3-4 people at one time. You can cook multiple burger patties, grilled cheese sandwiches and whatnot in a single go.
On the other hand, the Q2400 is designed to use a 1560-watt electric heating element for heating 280 square-inches of total cooking space. This is a larger size than the Q1400. This means you can cook for 6-7 people at once. This larger size is heated using the same amount of electricity than the slightly smaller Q1400 option from the same brand.
Construction
Both of the grills are protected by a porcelain-enamel coating. The cast-iron cooking grates offer a unique taste. The cast aluminum lid and body are designed for long term durable use. These elements place both of these grills at a parallel footing in terms of their construction and built.
Frame and Assemblage:
These grills use a glass-reinforced nylon frame for a sleek finish and lightweight. These grills are assembled fully out of the box. They can be carried or transported when assembled. Their lightweight allows them to be mobile.
Grease tray
Like any contemporary grill, the weber Q series also comes with separate grease trays that can be removed for easy cleanup. Both the Q1400 and the Q2400 offer them. These trays are designed to catch all the oil, grease and fat drip. The tray can be removed and then washed to be reused. This can allow you to be carefree and minimize your hassle.
Heat Settings
Q1400 and Q2400 both contain aluminum heat retention liners to keep food warm for a long period of time and to cook fully. They offer an unlimited amount of heat control settings. These settings can be adjusted on the control burners individually. The heat will disperse evenly and be retained for a long period of time despite the Q2400's large cooking space and the same electric requirement.
Power Supply
Being electric grills they only require electricity to cook food. There is no need for gas or propane or even charcoal to bbq with these. These grills come with a convenient 6-foot grounded cord. These allow the grills to be used on trunk shows, bake sales, bonfires, and festivals through generators. The only requirement of the power supply for these electric grills is that they should be given current through a residual current device (RCD) having a rated residual operating current not exceeding 30 mm.
Size
Q1400 is lighter than Q2400. The difference is about 13.5 lbs. However, since Q2400 is larger and allows you to cook for more people it is ideal for home use and to host guests. Q2400 is also a valuable asset for a camping trip where only this may be the cooking option. But it weighs around 42 lbs. This puts you in a position to choose whether you want to fulfill more people or carry less weight. It all comes down to whether you want a grill for your home and outside use, or only a backup or an additional trip usage grill.
Only you know your requirements, if you want a bigger one in the same electric input then go for the Q2400. If you want a smaller and more intimate and easy to carry electric grill then go for the Q1400. Either way, there is a great option to add to your lifestyle and special occasions.
For more Exciting offers and deals visit our Home page