Everyone enjoys grilling but choosing the best gas grill between
Weber and Nexgrill
can be pretty colossal. Both are the topmost competent manufacturers of quality and reasonable grilling products worldwide.  Weber is of the cheapest and portable gas grills with sufficient space, also the same is true for the Nexgrill grill series.  Let's give you a quick overview of some of the highlight features.
Weber Vs NexGrill
Weber Spirit II E210 is the latest model of weber. It offers a lot of features that is why it is currently one of the most selling grills. Let's see what it offers,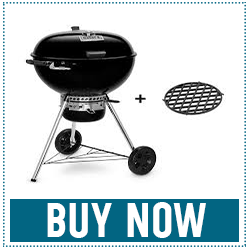 It has 360 square inches of the primary cooking area plus 90 square inches of warming rack. So, the total cooking area of Weber Spirit II E-210 is 450 square inches.
This grill has two stainless steel burners that are capable to deliver a heat output of 26,500 BTU/hour.
It includes a folding side that can be used for keeping seasonings, tools, and platters. It gives some extra space and if anyone has a storage problem at their place you can fold it side just by pressing the button.
This uses a GS4 grilling system that provides you easy and reliable grilling experience, it is comprised of four main components, infinity ignition, powerful burners, Flavorizer bars, and grease management system.
Like most of the weber grills this, Spirit II E-210 model also comes with 10 years warranty. Customer support is very good they always pay attention to their consumer's complaints and queries.
Nexgrill evolution offers similar features and stands as a great substitute for the Weber Spirit II E-210. Let's check its features,
It has 385 sq. inches primary cooking area plus 65 inches of warming rack. So, the total cooking space of this grill is 450 square inches.
This is made with some corrosion-resistant material that allows you the device to function properly. Besides this, its two porcelain cast-iron ensures easy cleaning of the device.
Nexgrill Evolution also comes with two burners and both are capable to produce 28,000 BTU per hour.
You can operate it over propane gas as well as natural gas. Also as it comes with Nexgrill evolution infrared technology that provides different cooking conditions for different cooking methods.
Comparison (Weber Vs Nexgrill)
Based on the design, heating output, maintenance, technology, grilling area, and warranty both the grills are awesome and value for money. If you pick any of them you will never regret on your buying decision. You have already read reviews of both products lets dive into this compare it. In the heating output, The Nexgrill is the winner as it comes with 28,000 BTU whereas the weber model delivers a total heat output of 26,500 BTU.
For more Exciting offers and deals visit our Home page